2004. gada albumi
---

Bark Psychosis
"Replay"
(Third Stone, STONE 041CD) (79:43)(2004)
vērtējums: no 10



Graham Sutton - guitar, vocals
Daniel Gish - keyboards
John Ling - Arranger, Producer
Mark Simnett - Arranger, Producer
Sue Ellen Page - Arranger, Vocals

"Clawhammer" (Sutton/Simnett/Ling) (2:36)
"By Blow" (Sutton/Simnett/Ling) (5:10)
"Nothing Feels" (Sutton/Simnett/Ling) (3:46)
"Tooled Up" (Gish/Sutton/Simnett/Ling) (7:37)
"Reserve Shotgunman" (Gish/Sutton/Simnett/Ling) (5:48)
"Murder City" (Gish/Sutton/Simnett/Ling) (8:59)
"Big Shot" [Alice's Cheshire Cat Mix] (Sutton/Simnett) (8:32)
"Hex" (Sutton/Simnett) (7:02)
[live 03.07.1991 at St. Johns Church, London]:
"The Loom" (Gish/Sutton/Simnett/Ling) (4:53)
"Manman" (Gish/Sutton/Simnett/Ling) (3:53)
"Pendulum Man" (Gish/Sutton/Simnett/Ling) (5:44)
"Bloodrush" (Gish/Sutton/Simnett/Ling) (7:02)
"All Different Things" (Page/Sutton/Simnett/Ling) (8:35)
Bark Psychosis
Bark Psychosis
links to Bark Psychosis
---

Bark Psychosis
"Codename: DustSucker"
(Fire Records, Fire CD90) (:) (26.07.2004)
vērtējums: 10 no 10



Pete Beresford - Vibraphone
Anja Buechele – Vocals
Rachel Dreyer – Piano, Vocals, Wood Flute
Shaun Hyder – Sindhi Tamboura
Lee Harris – Drums
Alice Kemp – Bowed Guitar
T.J. Mackenzie – Trumpet
David Panos – Bass
Graham Sutton – Guitar, Piano, Melodica, Bass, Emulator, Vocals

Engineered and produced by Graham Sutton at DustSuckerSound, Hackney, London.

"From What Is Said To When It's Read" (5:29)
"The Black Meat" (6:41)
"Miss Abuse" (6:15)
"400 Winters" (5:48)
"Dr. Innocuous/Ketamoid" (1:04)
"Burning The City" (5:11)
"Inqb8tr" (7:57)
"Shapeshifting" (6:01)
"Rose" (5:50)


Ilgi esmu kavējies pie šī albuma apskatīšanas, jo sākotnēji to nedrīkstēja darīt pirms tas bija izdots, tad nebija laika un to biju iepazinis par daudz, lai novērtētu precīzi, bet, kad tas iznāca oficiāli, atšķīrās pirmā skaņdarba garums no iepriekšējās versijas. Lai nu kā Bark Psychosis atgriešanās ir notikusi un to var arī lasīt vismaz 45 recenzijās. Joprojām neprotu no tā distancēties un apcerēt to, kā tas būtu pelnījis. Acīmredzot, būs jāpajautā daži jautājumi Grahamam par to, kas bijis un kas sanācis.
Bark Psychosis
An interview with Graham Sutton, 2001
links to Bark Psychosis
---

Univers Zero
"Implosion"
(Cuneiform, Rune 190) (48:49) (May, 2004)
vērtējums: 7,5 no 10



Michel Berckmans - Oboe, English Horn, Bassoon
Serge Bertocchi - Alto, Soprano, Sopranissimo Saxes, Tubax
Aurélia Boven - Cello
Daniel Denis - Drums, Percussion, Keyboards, Samplers, Accordion, Cheap Guitar
Dirk Descheemaeker - Clarinet, Bass Clarinet
Bart Maris - Tumpet, Flugelhorn
Eric Plantain - Electric Bass
Christophe Pons - Acoustic Guitar
Bart Quartier - Marimba, Glockenspiel
Igor Semenoff - Violin

"Suintement (Oozing)" (1:13)
"Falling Rain Dance" (4:14)
"Partch's X-Ray" (5:22)
"Rapt D'Abdallah" (3:01)
"Miroirs (Mirrors)" (1:18)
"La Mort de Sophocle (Sophocle's Death)" (3:11)
"Ectoplasme" (1:07)
"Temps Neufs" (4:55)
"Mellotronic" (4:04)
"Bacteria" (1:28)
"Out of Space 4" (2:53)
"First Short Dance" (0:42)
"Second Short Dance" (0:43)
"Variations on Mellotronic's Theme" (3:05)
"À Rebours (In Reverse)" (1:55)
"Méandres (Meanderings)" (9:38)
Iespējams, ir liela patiesība, ka ikviens Univers Zero albums, un to tomēr nav pārāk daudz, ir unikāls, individuāli īpatnēji atšķirīgs un neatkārtojams aranžējuma un priekšnesuma dēļ. Lai arī skanējums ir arvien starp etno-folk (ak, akustiskie instrumenti!), kamerroka un mazā kamermūzikas ansambli (varbūt kā ELP, tikai bez ģitāras!), taču ar aktīvu emocionalitāti. Albumā "Implosion" ir pārsvarā īsi skaņdarbi un tikai noslēdzošais nepilnu 10 minūšu garumā. Ja daudzkur industriālajā un avangarda mūzikā trokšņu īpatsvars nomāc, tad Univers Zero tie ir mūzikas kontekstā. Lai arī kā es nemīlētu šo beļģu grupu, šoreiz gada albuma tituls no manis viņiem nedabūt. Kaut arī avangardiski un minimālistiski, taču ne tik aizraujoši un muzikāli, lai albuma klausītos atkārojuma režīmā.
Univers Zero
Univers Zero
Univers Zero
Implosion
Implosion
Implosion
Implosion
Implosion
Implosion
Implosion
---

Dave Bainbridge
"Veil Of Gossamer"
(Open Sky, OPENVP4CD) (26.07.2004) (64:19)
vērtējums: 7 no 10



Mae McKenna - Voices
Rachel Jones - Voices
Joanne Hogg - Voices
Dave Bainbridge - Keyboards, Sound Treatments, Electric Guitar, Bouzouki, Mandolin, Belafon, Piano, Electric and Nylon strung Guitars, 15 string harp, Fylde Oberon Steel strung Acoustic Guitar, Manson Magpie Steel strung Acoustic Guitar, Star Bells, Autoharp, Bongos, Hand drum, Indian Tambourine, Struck Tambourine, Shakers, Finger Cymbals
Peter Fairclough - Cymball Sculptures, Gongs, Wind Chimes, Cymbals, Stallichimes, Shell Chimes, Cymbal and Gong textures
Frank van Essen - Drums, Rainmaker, Shaker, Bells, Chimes, Celesta, Tambourine, Violins, Bodhran, Mini tims, Tom Toms, Bell Tree, Triangle
William Schofield - Solo Cello
Nick Beggs - Bass Guitar, FX, Fretless Basses
Tim Harries - Bass Guitar
Peter Whitfield - Strings, Violins, Violas
Troy Donockley - Tin Whistle, Uilleann Pipes, Low Whistles, Tin Whistle, Voice
Chris Hale - Improvised Voice

Written, arranged, produced, recorded by Dave Bainbridge.
"Chanting Waves" (2:17)
"Over the Waters" (7:29)
"Veil of Gossamer" (4:55)
"The Seen and the Unseen" (2:18)
"The Everlasting Hills" (total time 19:47)
(part 1) (5:36)
(part 2) (2:34)
(part 3) (3:54)
(part 4) (2:54)
(part 5) (4:36)
"Seahouses" (3:06)
"Until the Tide Turns" (4:29)
"The Homeward Race" (5:25)
"Star-Filled Skies" (total time 14:49)
(part 1) (3:39)
(part 2) (2:40)
(part 3) (3:46)
(part 4) (4:41)
Dave Bainbridge vadītā Iona ir sasniegusi pilnbrieda kvalitāti, kad tās albumi ir baudāmi muzikāli stundas un + garumā, akustiski, kad uzplaukst, noriet un aizvējo notis, izbaudot instrumentācijas smalkumus un rotaļas, kulminācijas basa reģistros. Nešaubāmi viena no gadsimta spilgtākajām progresīvā roka/folkroka grupām ar sievietes vokāla izmantojumu un instrumentālās mūzikas apvienojumu, kurai ir savs stils, nevis patapināts vai atvasināts! Tā kā ieskaņojumi netiek laisti klajā reizi gadā, tie atšķiras ar muzikālā satura bagātību, liriskā tēla gleznieciskumu, jo ir izstrādāti, iespēlēti nesteidzīgi. Pircējs netiks pievilts, bet drīzāk pārsteigts par to kvalitāti un enerģētisko viļņu lielumu un brīžiem vētrainības skaistumu, jo Iona un to dalībnieku projekti nav vispasaules spēlētāko grupu apritē, bet gan pārsvarā progresīvā un kristīgā roka augstākajos pakāpienos. Grūti iedomāties, kāpēc viņu popularitāte tik lēni aug augumā, bet mūsu reģionā tikai DVD varētu iepriecināt, lai redzētu, kā tas viss top gatavs un kā tiek pasniegts, kas kvalitātes ziņā ir līdzvērtīgs Yes vai grupai, ar kuru Iona agrāk tika saslīdzināta Clannad, vai Marillion, bet ar klasiskās mūzikas orķestra skaņu pieplūdumu (kā Enid), taču visspēcīgākais, manuprāt, ir Iona koncertalbums. Arī Deiva "Veil Of Gossamer" jāuztver kā viens konceptuāls darbs grupai un nosacītam orķestrim, jo tas nav tik azartisks kā Iona ieraksti, bet ir orķestra tematikai pakārtots un izspēlēts. Varbūt jāatzīst, ka nekā jaunate nav, tāpēc arī atzīme zemāka, jo tā aug tikai aktuālu novitāšu esības gadījumos. Vai ir klusi vai vētraini, taču lai ir lakoniski un vienreizīgi.
Iona
Dave Bainbridge
Veil Of Gossamer
interview with Dave Bainbridge
interview with Dave Bainbridge
---

Marillion
"Marbles"
(Intact Recordings 6501) (68:03)(2004)
vērtējums: 6 no 10



Steve Hogarth – vocals, hammered dulcimer
Steve Rothery – guitar, bass
Pete Trewavas – bass, acoustic guitar
Ian Mosley – drums
Mark Kelley – keyboards
+
Carrie Tree – additional vocals (4)
"The Invisible Man" (13:37)
"Marbles I" (1:46)
"You're Gone" (6:28)
"Angelina" (7:41)
"Marbles II" (1:55)
"Don't Hurt Yourself" (5:48)
"Fantastic Place" (6:12)
"Marbles III" (1:51)
"Drilling Holes" (5:11)
"Marbles IV" (1:25)
"Neverland" (12:09)
"You're Gone" (4:00)
Marillion
recenzijas
---

Jānis Žilde
"Stāvi"
(Jānis Žilde) (40:16) (2004)
vērtējums: no 10


"Stāvi" (15:17)
"Stāvi viens" (3:33)
"Stāvi divi" (3:02)
"Stāvi trīs" (4:15)
"Stāvi četri" (2:26)
"Stāvi pieci" (9:55)
"Stāvi seši" (1:48)
Satellites LV
intervija žurnālā "Mūzikas Saule"
---

Black Forest/Black Sea
"Forcefields And Constellations"
(BlueSanct/Secretly Canadian, INRI076) (2004)
vērtējums: 6 no 10


"Orion"
"Nylon 2"
"These Things"
"Kyy Plays Perpetual Chang"
"I'm in love..."
"...with a dead man I've never met"
"Fish No Fish"
"F vs. BF/BS"
"Hung Far Lowish"
"Nylon 1"
"The Last Night in Troy"
"Tangent Universe"
"Jamestown"
Black Forest/Black Sea
Black Forest/Black Sea
---

Moongarden
"Round Midnight"
(Galileo Records, GR008, 73655) (52:29)(2004)
vērtējums: no 10



David Cremoni - gitar
Luca Palleschi - vocals
Cristiano Roversi - stick, keyboards, bass
Max Sorrentini - drums
Mirko Tagliasacchi - bass

"Round Midnight" (7:43)
"Wounded" (7:37)
"Killing The Angel" (4:53)
"Lucifero" (6:33)
"Slowmotion Streets" (6:32)
"Learning To Live Under The Ground" (10:24)
"Coda: Psychedelic Subway Ride" (2:00)
"Nightmade Concrete" (6:10)
"Oh, By The Way, We're So Many In This City And So Damn Alone" (2:02)
Moongarden
Galileo Records
---

Rich West
"Bedouin Hornbook"
(pfMentum, CD016) (68:16)(2004)
vērtējums: no 10



Chris Heenan – bass clarinet, alto saxophone
Bruce Friedman – trumpet
Jeremy Drake – electric guitar
Scot Ray – eb tuba
Rich West – drums

"Bugge" (11:20)
"Tribology" (6:34)
"Twang" (14:41)
"Tread" (8:22)
"Friends of the Vacuum" (9:00)
"Tychai 1 and 2" (7:25)
"Curly" (4:10)
"Furcifer" (6:44)
Rich West
---

Pascals
"Half Moon Of Pascals"
(Les Disques du Soleil et de l'Acier, C-DSA 54086) (2004)
vērtējums: no 10


Hiromichi Sakamoto "Half A Summer Has Been Delivered" (4:48)
Akane "Nioi" (4:18)
Akane "Syokyakuro" (2:43)
Tama "Gaudi San" (4:50)
Tama "Giga" (3:45)
Komatcha Klezmer "Jinta" (4:19)
Komatcha Klezmer "Choyo" (4:04)
Utsuo "Yume" (3:48)
Utsuo "Utauyo" (3:55)
Cinorama "From A Winter Note" (4:58)
Hiromichi Sakamoto "The Butterfly, The Bones And The Rainbow" (6:36)
Pascals
---

TU
"Trey Gunn/Pat Mastelotto"
(57:32) (2004)
vērtējums: no 10


"Untamed Chicken" (5:15)
"Absinthe & a Cracker" (5:40)
"The NOOOSE" (7:21)
"XTCU2" (2:16)
"Make my grave in the shape of a heart" (4:15)
"Terry's breath" (6:03)
"Snap, Crackle, Moo" (3:03)
"Hotel Fandango" (6:15)
"Misery Die... Die... Die" (4:58)
"Orlando in Bloom" (2:25)
"Pony" (1:45)
"Jamoohra" (2:53)
"Dakota" (3:11)
"Coda to Dakota" (2:05)
Pat Mastelotto
Trey Gunn
---

IQ
"Dark Matter"
(Giant Electric Pea, GEPCD 1034/SPV 085-60802 CD) (52:18)
vērtējums: 7 no 10



Paul Cook - drums and percussion
Michael Holmes - guitar and effects
John Jowitt - bass guitar and backing vocals
Peter Nicholls - lead vocal and backing vocals
Martin Orford - keyboards, backing vocals

"Sacred Sound" (11:40)
"Red Dust Shadow" (5:53)
"You Never Will" (4:54)
"Born Brilliant" (5:20)
"Harvest Of Souls" (24:29)
IQ
IQ
IQ
---

Laika
"Wherever I Am I Am What Is Missing"
(Too Pure, PURE141CD) (42:00)(2003)
vērtējums: no 10



Margaret Fiedler - Producer, Group Member
Guy Fixsen - Producer, Engineer, Mixing
Lou Ciccotelli - Drums
Mark Strand - Poetry
John Frenett - Bass, Group Member

"Girl Without Hands" (5:00)
"Falling Down" (5:18)
"Alphabet Soup" (4:07)
"Barefoot Blues" (3:50)
"Leaf by Leaf" (4:40)
"Diamonds & Stones" (3:46)
"Dirty Bird" (3:20)
"Fish for Nails" (3:17)
"Oh" (4:13)
"King Sleepy" (4:24)
Laika
Laika
Laika
---

Sigur Rós
"ba ba ti ki di do"
(EMI, 72435499392 3)(20:43)(12.07.2004)
vērtējums: 4,5 no 10


ba ba (6:12)
ti ki (8:49)
di do (5:42)
Lai arī šie trīs skaņdarbi nav komponēti albumam, bet gan deju uzvedumam, ir interesanti, ko jaunu un vai jaunu piedāvā leģendārā Islandes grupa, kuras ieraksti ir labs kolekcionāru ēdiens. "ba ba ti ki di do" ir ambient mūzikas ieskaņojums, kas vairāk tuvs The Album Leaf skaņu filozofijai, ar kuru šogad arī krustojušies ierakstu ceļi un to izdevums, taču saglabā klusus semplus un kaut ko līdzīgu Múm elektroniskā minimālisma japāniskam naivumam un varbūt arī miega atvilināšanas mēģinājumu, kur tikai ar otrā skaņdarba akordiem (4:01) aizsākas traģiskas noskaņas apveids tikpat lēni un nesteidzīgi, cik tas aizsākās, tā arī nepiepildot rokmūzikas notis. Pēc repošanas teksta atkārtojumiem trešajā daļā, kad sākas industriāli trokšņi (2:21), viss labais tiek zaudēts. Un "ba ba ti ki di do" EP iegūst vāju atzīmi.
Sigur Rós
Sigur Rós
Sigur Rós
---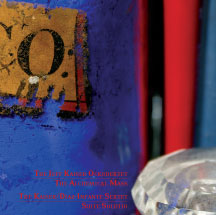 The Jeff Kaiser Ockodektet/The Kaiser/Diaz-Infante Sextet
"The Alchemical Mass/Suite Solutio"
(pfMENTUM CD019) (53:21)(2004)
vērtējums: no 10


The Jeff Kaiser Ockodektet with The Ojai Camerata:
"The Alchemical Mass"

"Introitus" (10:28 [Eric Barber - Soprano Sax, Vinny Golia - Sopranino Sax]
"Kyrie" (3:00)
"Collecta and Gloria" (2:33) [Kris Tiner - Flugelhorn]
"Epistola and Graduale" (1:44)
"Offertorium" (9:03) [Jeff Kaiser - Flugelhorn, Jason Mears - Alto Sax]
"Ave Maria and Commune" (7:16)

Kaiser/Diaz-Infante Sextet:
"Suite Solutio"

Part I (2:38)
Part II (1:25)
Part III (5:06)
Part IV (5:49)
Part V (4:19)
Jeff Kaiser
---

The Red Masque
"The - Feathers for Flesh"
(Big Balloon Music, BBM1002)(54:32)(09.07.2004)
vērtējums: 6 no 10



Kiarash Emami - electric guitar, acoustic guitar, mandolin, keyboards, vocals
Brandon Ross - bass guitar, acoustic guitar, keyboards, vocals
Lynnette Shelley - vocals, lyrics, erhu, psaltery, the conundrum, pots, pans, slinky, and other objects
Brian (Vonorn) Van Korn - drums, percussion, keyboards, theremin, electric guitar, bass guitar, vocals
+
Damian Boucher - violin (1)
Sue Wolfsong - vocals (5)

"House of Ash" (12:07)
i. "Corridors"
ii. "Judgement"
iii. "The King's Lament" Pt. 1
iv. "The King's Lament" Pt. 2

"Passage" (14:12)
"Yellow Are His Opening Eyes" (14:47)
i. "The Summoning"
ii. "Outscream"
iii. "Vacant"

"Beggars & Thieves" (9:38)
"Scarlet Experiment" (3:46)
Iespējams, ka psihedelisks progresīvais avanagrda roks ar sieviešu vokālu, kā tas ir Olive Mess gadījumā, ar ko grupai dažubrīd ir liela līdzība, un ne tikai, ir tradicionāls, ja neatbaida juceklīgums, tad paliek King Crimson un Magmas vai agrīno Anekdoten stilistikas smagais avangarda roks ar romatisku Renesances mūzikas folklorismu (kā Blackmore's Rainbow). Visu tā vērtību nosaka, kā ikvienā albuma ietvarā, cik tas ir interesanti un vai tas viss aizrauj. Tiklīdz samani trafaretus akordus vai mazāk interesantas vai pat otršķirīgas tēmas, tā atslābums liek lūkoties ārā pa logu via skatīties kaut kur citur, jo uzmanības deglis apdzisis. Lai arī atsevišķas vietas ir patiesi spēcīgas, tomēr lielākoties tas nogurdina, garlaiko un pat dara mani vienaldzīgu. Vai es to gribētu klausīties vairākkārt? Japadomā... Ja nu vienīgi DVD formātā vai dzīvajā koncertā.
Red Masque
Big Balloon Music
Big Balloon Music
---

Windermere
"The World Is Here"
(Iwave Records, IW-007)(44:40)(2004)
vērtējums: no 10



Jakob Skjoldborg - vocal, bass
Hans Kjelstrup - guitar
Thomas Schultz - Hansen - drums
Kim Oxlund - guitar, keyboard
+
Soma Allpass - cello
Peter Martin Sohuus - viola

Trailer Park (7:15)
Watch The Stars (3:13)
Your Eyes Could Start A Fire (6:19)
Somehow (5:42)
You Have It All (6:49)
Unspoken (6:47)
Underneath (6:02)
Tone H (2:30)
Windermere
---

Charles Atlas
"To The Dust: From Man You Came And To Man You Shall Return"
(Ochre Records, OCH047LCD) (71:48)(19.07.2004)
vērtējums: no 10



Sacha Galvagna - multi-instrumentalist
Charles Wyatt - guitar
Matt Greenberg - keyboards
+ Zoë Keating - cello
Odessa Chen - vocals
Leann Wright - flute
Jose Alvarez - trombone

"Neither Nor" (7:33)
"Demus" (7:14)
"Corona Norco" (3:56)
"Edith" (5:18)
"Signal Flags" (9:24)
"Photosphere" (5:32)
"Chapultec" (6:07)
"Seven Digit Clock" (8:31)
"Primo Levi" (7:58)
"Dipole Movement" (10:11)
Charles Atlas
Ochre
---

Mono
"Walking Cloud And Deep Red Sky, Flag Fluttered And The Sun Shined"
(Human Highway Records, HECY-1007/RykoDisk, RCD10675/Temporary Residence Limited, TRR68) (58:28)(14.04.2004/07.06.2004/05.10.2004)
vērtējums: 10 no 10



Takaakira "Taka" Goto - Guitar
Tamaki - Bass
Yasunori Takada - Drums
Yoda - Guitar
+
Strings Quartet
Susan Voelz, Inger Peterson Carle - Violin
Vannia Phillips (M2,3), John Sagos(M4) - Viola
Alison Chesley - Cello

Produced by MONO and Steve Albini

"16.12" (10:57)
"Mere Your Pathetique Light" (6:36)
"Halcyon (Beautiful Days)" (8:09)
"2 Candles, 1 Wish" (2:47)
"Ode" (7:06)
"The Sky Remains The Same As Ever" (2:27)
"Lost Snow" (15:12)
"A Thousand Paper Cranes" (5:11)
Mono trešais albums ir klasisks mākslas darbs, kas ir tikpat labi pārdomāts, cik GYBE, EITS, Tarentel, Mogwai, Timonium vai Sigur Rós. Jebkurā gadījumā gada albums, kas patiesi japāniskai grupai uzrāda nejāpāniskas mūzikas skaņas. Un ne nieka no noise klātbūtnes. Nepamatoti pārmest precizitātes stilu, jo, gluži kā pieminētajiem kolektīviem, arī Mono ir sāpju jutīgums un pārdzīvojums. Kas to nespēj izjust, tas laikam mīl ačgārni. Fantastiski smalks un krāšņs savā pieticībā albums, kurš var tikai patikt arvien vairāk un vairāk kā Sigur Rós vai EITS, lai ar dažām redzamām Bark Psychosis vai Mogwai (pēkšņa kulminācija "Halcyon (Beautiful Days)"(5:11) un GYBE skanējuma īpatnībām. Vai tad tā nav mākslas formula, ja viss rīmējas un saliekas tukšajos stūros un klavieru akordi skan izsvērti, ik nots šķiet papildina dzirdēto. "Walking Cloud And Deep Red Sky, Flag Fluttered And The Sun Shined" ir kā dāvana, kura nenolietojas un ir ziemeļnieciski pieticīga, bet tās saņēmējs var būt tikai laimīgāks ar to nekā bez tās.
Mono
Mono
Mono
---

The Autumn Project
"La Luna de Negra"
(Zure Records, ZU006)(66:06)(2004)
vērtējums: 9 no 10



Mike Gustafson - Drums, Textures, Keyboards
Jess Huffman - Guitar
John Huffman - Baritone Guitar, Bass Guitar

"One" (7:51)
"Two" (16:46)
"Three" (11:25)
"Four" (7:42)
"Five" (11:43)
"Six" (10:37)
The Autumn Project man bija viens no pagājušā gada atklājumiem un, klausoties MP3 skaņdarbus, šķita, ka viņu albums varētu arī būt gada albums. Vismaz grupa ir pelnījusi nopietnu uzmanību no avangarda mūzikas, progresīvā roka un post-roka cienītāju un kritiķu puses, jo bieži vien grupu albumi, kuri ir mazliet virs vidusmēra līmeņa iegūst ļoti labvēlīgas un slavinošas recenzijas, kā rezultātā pircējs ir neizpratnē, ja pirkums nesniedz cerēto smaržu un baudu, bet uzticība zūd kopā ar vēlmi par kvalitāšu garantijām. Esmu iegādājies visus trīs šīs grupas ieskaņojumus un jau kļuvis par tās cienītāju kaut vai tādēļ, ka Mike Gustafson ir talantīgs komponists, bet The Autumn Project ir no to simfoniskā avnagardiskā post-roka novirziena, kur GYBE, ASMZ, Sigur Rós, Mono, Clogs, DMST, kuras sniedz konceptuālu ieskatu, kā tiek izprasta skaņu māksla un kā klausītājs tiek virzīts albuma ietvaros. "La Luna de Negra" ir gan eksperimentāli radikāls, kluss un izjūtām bagāts, ar pēkšņām kulminācijām ("One" - 6:50, "Six" - 2:25) un klusuma pauzēm, pietiekoši daudzveidīgs valodas un instrumentācijas ziņā, lai to uzskatītu par jauno mūziku. Virspusēji neiedziļinoties šķiet, ka, tāpat kā GYBE vai EITS, The Autumn Project izpilda vienu skaņdarbu "La Luna de Negra", kas ir pinkfloidiski himniskis un blakus trošņiem pildīts. Lai arī tā attīstība nenotiek tikpat emocionāli, taču tas ir iespaidīgi. Vai grupa iegūs zvaigznes vai kulta statusu?
The Autumn Project
The Autumn Project
---
Daži no 2004. gada atklājumiem:
---
ATPAKAĻ | # 4 (1997) | # 5 (gadsimta) | # 6 (1998) | # 7 (1999) | # 8 (2000) | # 9 (2001) | # 10 (gadsimta #2) | # 11 (2002)
progresīvais un avangarda roks | post-roka grupas | post-roka leibli un mediji
2000. gada albumi | 2001. gada albumi | 2002. gada albumi | 2003. gada albumi | 2005. gada albumi | 2006. gada albumi | 2007. gada albumi | 2008. gada albumi | 2009. gada albumi | 2010. gada albumi | Olive Mess
The [Gri:n] Files #1 | #2 | #3 | #4 | #5 | #6
---
Zaļā Delfīna aptauja, © Dainis Bušmanis, a. k. 345, Rīga, LV-1050, LATVIJA.
Papildināts 2010. gada 20. martā.